As part of our redesign, we took elements from the old Home page like Market Recap and Market Edge Upgrades and combined them with important sections of the old Markets Page such as Commentary, Market Edge Favorites and the Webinar.  We added in some Market Indicators that were formerly scattered throughout the site and put them all in a single place for quick reference.
What Is Here and What Is New?
Market Overview all on one page

Easy To Find Market Indicators

CTI (Cyclical Trend Index)
MarketEdge Market Posture
EXCLUSIVE FOR A LIMITED TIME! – S&P Short Range Oscillator

Market At A Glance
Second Opinion Performance
Industry Group Summary
Market Edge Upgrades
Roll-over Charts on Every Symbol
Quick Definitions (click on Question marks near terms for definition)
Star Changes
Daily Commentary
Tech Talk Tuesday Webinar Replay
Dr Market Edge Talks Stocks (The Doc Stocks)
…and the rest of the Market Edge News Feed
AND LIVE CHAT SITE SUPPORT ON EVERY PAGE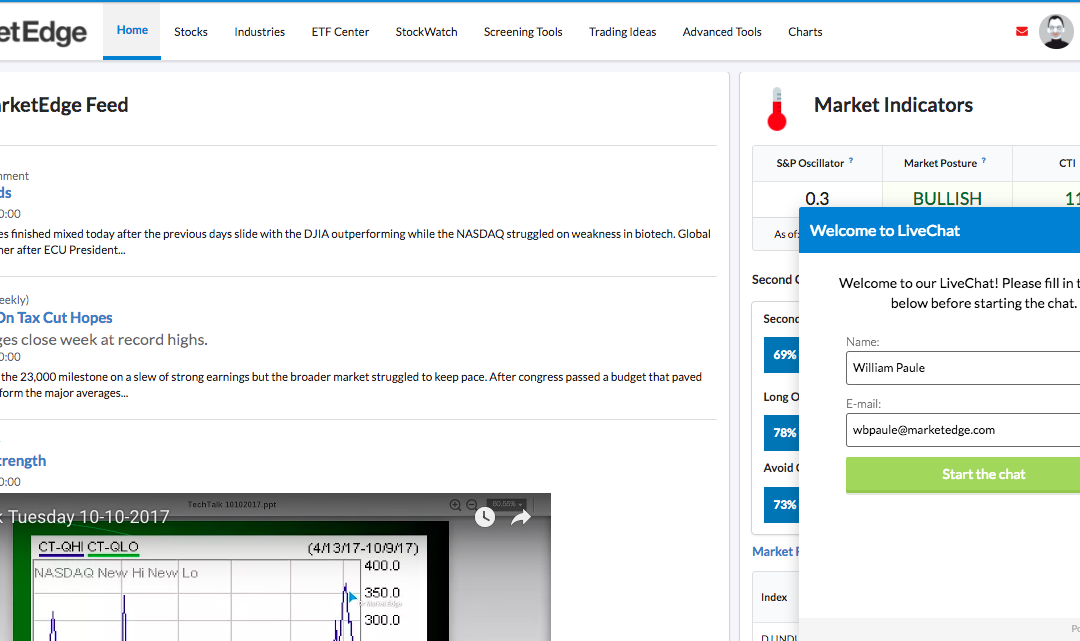 If you are having problems on the site, Live Chat site support is now available directly on every page during normal office hours.  After hours you can leave a message that is added to the support queue.  It is a quick and easy way to ask a question and get a fast...