Redesigned Account and Help Center
The new Account and Help Center provides all the tools you need to manage your account and learn how to use MarketEdge more effectively.
What is There, What is New?
Getting Started

MarketEdge provides a ton of useful tools to help you find the right stock at the right time.  Because of the vast quantity of information, sometimes it is hard to figure out where to get started and it is easy to get overwhelmed.  That is where Getting Started comes in.  Simply go to Getting Started and select a topic.  We have articles explaining how to read the Weekly Market Letter and Daily Commentary, in depth explanations about MarketEdge Technical Indicators  as well as some helpful Trading Tips and much more.  Within each topic we have many articles to help you get the most from MarketEdge.

Video Tutorials

Sometimes nothing helps more that watching someone else walk through how to do something.  We created detailed video tutorials on how to use some of the more complicated sections of the site.

Glossary

There are lots of terms we use in Technical Analysis that are not part of most people's everyday vocabulary.  We collected them and put them in the Glossary.  These definitions are also available by clicking on the ? located in most places where the terms are used within the site if you need a quick reminder.

Manage Account

On the Manage Account page you can update your account information and email preferences.  Depending upon your membership type (Direct or Affiliate) you can edit your First and Last Name, Email address, toggle On and Off which emails you want delivered, Click to go to the billing provider to update your credit card details, and change your password,

Manage Reports

Easily created new report formats, update existing formats, and set a default report format in the Manage Reports page.  This is the same page that is available by clicking the Spreadsheet icon next to the Select Report Format dropdown on most reports

Message Center

We are building out our message center.  Look here for messages from MarketEdge about system notifications, notices, and other reminders.

Contact Us

Live Chat Support is on every page of the site and after hours the Live Chat allows you to leave a message that goes to the support team.  You can also go here to leave us a message or find other ways to contact us.
And Live Chat Site Support on every page.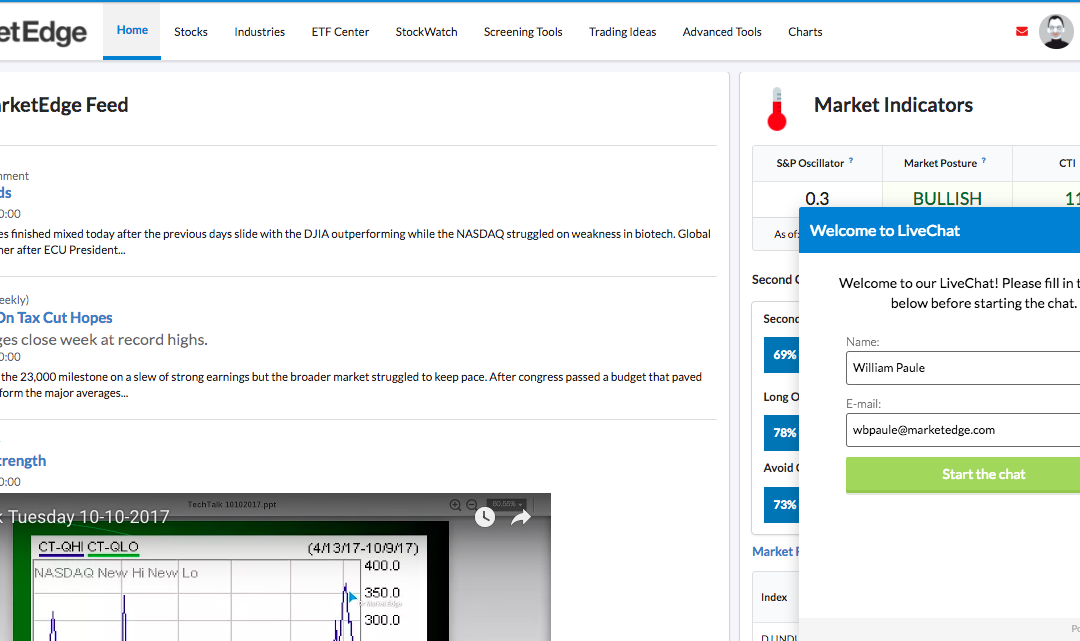 If you are having problems on the site, Live Chat site support is now available directly on every page during normal office hours.  After hours you can leave a message that is added to the support queue.  It is a quick and easy way to ask a question and get a fast...
read more