QuickCharts are all new and provide a subset of the features available in SmartCharts.
What is New?
3 Simple Moving Averages

21 day, 50 day and 200 day moving averages you can toggle on and off.

Color Coded Daily Candlestick Price Chart

Candlestick charts are similar to the OHLC charts as they indicate the Open, High, Low and Closing prices for the dat.  The BODY of the candle (the thick part) is between the day's Open and Close.  Red indicates the Close was lower than the Open, Green indicates the close was HIGHER than the open.  The thin lines are called the WICKS and represent the trading High and Low for each day.

Daily Trading Volume

Bar chart of daily trading volume below Price Chart

Customize Chart Timeframe

Zoom and pan to get a closer look at price movement.  Either use the slider bar below the Volume to shorten or lengthen the timeframe (zoom) or slide the blue portion of the bar back and forth to look back in history using the same timeframe (Pan).  You can also use your mouse to pan the chart, just remember to look at the dates after you have played with the chart to make sure you are not making current investment decisions based on a chart you panned back in time!

One Click Add To Watchlist

Click the + at the top of the chart, select a Stockwatch list and the stock is added right way!

Jump to SmartChart

If you are a Platinum subscriber (or above) you can jump directly to SmartChart to do more in depth chart analysis

Second Opinion beneath the chart

Get the current Second Opinion as well as Second Opinion Date and Price Opinion Formed.

Print Chart

Once you have what you want, click the Printer Icon on the top of the page to print your chart.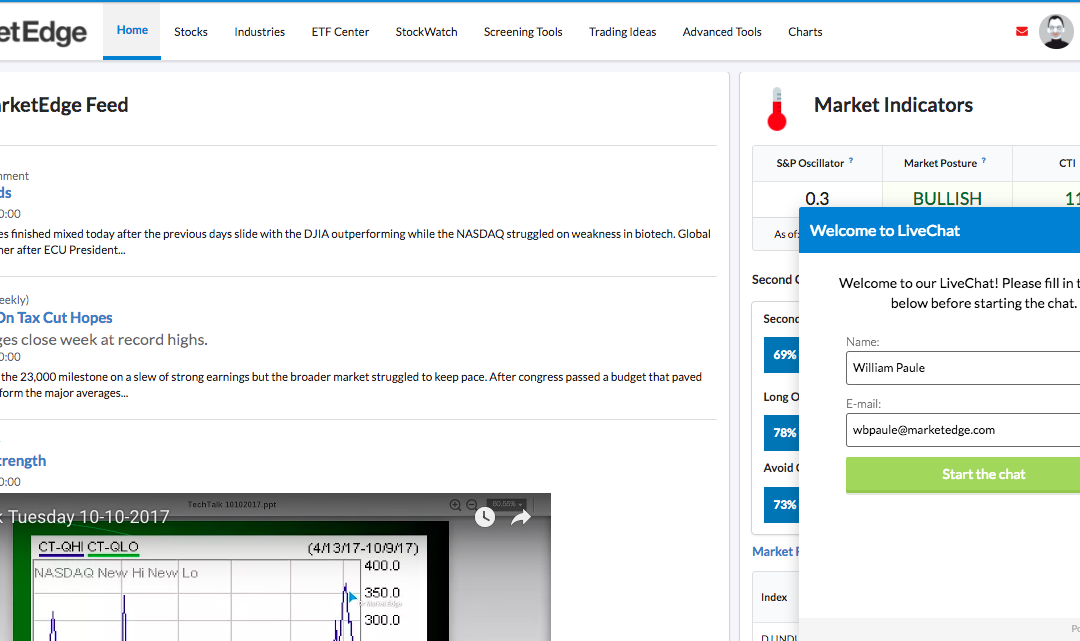 If you are having problems on the site, Live Chat site support is now available directly on every page during normal office hours.  After hours you can leave a message that is added to the support queue.  It is a quick and easy way to ask a question and get a fast...
read more